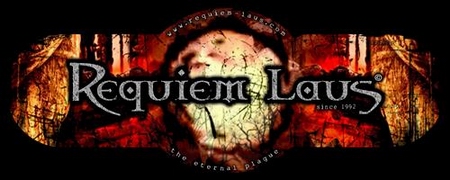 REQUIEM LAUS are from Madeira Island (Portugal) and they play a well mixed style of black/doom elements ending to a really interesting sound…Their bass player, Ricardo, replied to some questions that give us a picture of the band….Let's see what he says…
I know that the band has been on the scene for many years now. How come, despite your good style, haven't you found a record label yet to sign?
Although we are on the scene for several years, we have had some big step backs, loss of members and before we didn't do the right international promotion, still we had a couple of record labels interested, but it wasn't able for us to pay that much on our own to release our work. After our return on 2005 we took things with a different approach more for the international level, better production on the releases like the " promo 2006 " cd.

You have been through line up changes from time to time. Has this affected your sound and your way of writing?
Well, yeah when myself (Ricardo – bass) and Dani (guitar) joined the band we brought different aspects to the band, with our personal taste and influences together with what Miguel does made over the years what the band sounds today. We all get along well, so the creative process goes smoothly.

What are the themes that inspire Requiem Laus in writing? Who's writing lyrics and who's responsible for the music accompanying them? Should you consider making a concept album sometime in the future?
Yeah it would be great doing a concept album, still there has to be a strong "background" for the concept to work, it's a very interesting idea, I think all musicians like that challenge of doing a concept album.
About our lyrics, they are mainly written by a friend of the band Jorge Ribeiro de Castro, except on the "promo 2006" cd which were written by Miguel Freitas.
This new tracks are all with lyrics by Jorge again, apart for one which is written by myself, Miguel liked it so much he wanted to use it on one of the new songs.
The themes, well I think Jorge Castro would be the best to explain this part, but the way I see it, its about society and the choices we all make and what goes on with each religious beliefs, and well the world is a very strange place and we express our point of view through these lyrics together with the feeling we put on the songs.

What are your most strong influences? Which are the bands that made you think "I wanna write stuff like them"?
Well we all grew up listening to old school death and thrash metal, also classic hard rock. But the main influences for the band has to be metal gods as Death, Dismember, Bolt Thrower, Napalm Death, Amorphis (old), Anathema (old), Paradise Lost (old), Hypocrisy, Septic Flesh. And more recent stuff like Enslaved, Gehenna, Satyricon … but I guess everything we listen to and go through on our daily musical journey ends up influencing us, when we get to create a new RL song.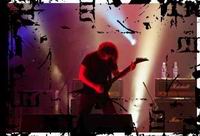 How would you call your music style? Do you fit in any of the known genres or would you call it a mix of different things?
Yeah for sure we are a mix of death with some doom and even black metal still melodic and melancholic. On these new tracks there are even some more Thrashier parts, but it all together makes us sound different from most bands. And we like that.

What do you believe about the Portuguese metal scene in general? Is there any specific band you would say you're "jealous" of and maybe you'd love to be like them?
There a lot of good and bad bands around like in any other country. I personally like The Firstborn, and would say they are my favorite Portuguese band, and also the thrash metal titans Pitchblack. Corpus Christii and Decayed are my favorites black metal bands over here, and these are bands I believe could compete with the international acts.

Recently you gave all your works for free download. Do you believe this can help in spreading the Requiem Laus word around? Is there any interest shown by people or labels after this "free download" movement of yours?
Yeah, since we got it for free we got a lot more of supporters, it's easier for people to get all the tracks when it's for free download.
Record labels (lol) well … I dunno, we got this 12 new tracks ready to be released as the first "full length" of the band now, lets see what will happen now.
We would love to release this "The Eternal Plague" cd this year.

Do you enjoy playing live? What are people's reactions to your live appearances?
Since the beginning all our shows were good, some had more people than others, but we give it all on stage and usually we get a great reaction during the show and after, which is nice. We are eager to play this new tracks live soon, they will work very well on live.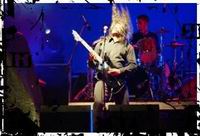 I see you are very active in the marketing of the band. Do you think that a band can handle marketing by itself or a manager is needed to push forward the band?
Yeah a manager helps a lot, there are certain aspects that is better to have someone who knows about the music business to handle it. But we do a lot of the promotion on our own, the internet helps a lot, and all the webradios, webzines.
I handle the whole "visual" side of the band, like cd artwork and website. We can't sit and wait for things to happen we have to make them happen ourselves, and at least we are trying and giving our best, and having fun on the process.

I guess all 3 of you work regularly to live and this is a question I always have for bands. How do you manage to make it all? I mean, working and having gigs that take time to be organized… And then, would you ever give up music due to lack of time because of working and family (later I guess) and stuff?
We don't get to play live as much as we want too, because of that, and we live on an island and its very expensive to get out and do shows, and we all have works to come back too, but we try and make it work. For now we don't think about giving up, at least we can still get together and write songs to release each year, since we have so much fun doing that.

How do you foresee REQUIEM LAUS' future? Where do you see the band in let's say 10 years from now?
Dunno really, hopefully with a record label, and having fun doing more regular shows around Portugal and on other countries too. We don't think much about the future we take it day by day or at least release by release, trying to make the next better than the previous thing we've done.
I always leave the last words to the band…Here's yours to finish this….

Thanks for your support, and interest on the band, hope we can play on your country someday, and meet you in person, as well as all the metal heads over there.

Keep on supporting metal!!

Kind "metal" Regards
Ricardo