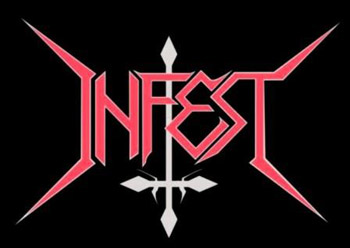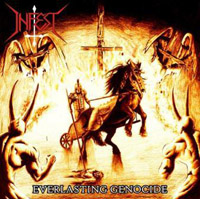 Greetings, your last album "Everlasting Genocide" is now on the market for some time now and the reactions to it are very good. Are you happy with it?
Vandal: Hails! "Everlasting Genocide"made a blasting reactions in the metal world, so we have to be more that happy with it. Of course, it's a new step forward…but there's so many more to walk over…

I guess that there are many people out there that haven't heard Infest so far. Could you first introduce your band to them?
Infest is an old school fashioned way of Death/Thrash metal from early '90 and late '80. No compromise riffing, straight in the face attitude, and that's Infest formula. You can check Infest via Facebook & Myspace.

On the other side, I noticed that many people from outside Serbia have heard Infest. How does it make you feel?
It's an honor for us to have supporters and fans everywhere…in one hand, that's the purpose, to spread our wings across this fucking earth. It is very important for every band to share their music everywhere, to book concerts across Europe and to make people know about their music and stuff…

What's your opinion on the Serbian Metal Scene? And what place does Infest have there in your opinion?
Serbian metal scene started to grow in the past years, but unfortunately, many bands existed for a few months or years, because the situation in Serbia is difficult, and people gave up. Some of them stop playing, and some turn their music in much commercial directions… Infest is here for 9 years, and I don't have a plan to quit. Place of Infest is in Serbian underground...no need for any competition...
How about some tours outside Serbia? Are you planning something like this at this moment? Is there a certain party planned?
We had a lot tours in past few years, and this year was one with the largest number of concerts and festivals across our border… We have booked few festivals for this summer, and in September we will tour across Europe and visit Slovenia, Romania, Bulgaria, Czech Republic and many more…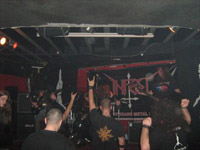 Are you planning to make a video for one of the songs from you last album?
There is an idea for making some new video, but we still have to wait some time, and make it good… Can't say when, but there'll be some new video for sure.

You have a cover version of the Bombader song "Horde" (cult band from the 80's and beginning of the 90's from Serbia). Why did you decide to cover them instead a famous foreign band that might attract more attention to you?
Grom records and Zero Budget will release BOMBARDER TRIBUTE, and we had the honor to make a cover of these Yugoslavian metal legends! No need to cover some big names, because we want to get attention with our music and not with some popular metal bands covers…

Any last words?
Thanks a lot for this interview, and to all your readers that took some and read my words… No compromise! We send you best regards! Thanks a lot! 666