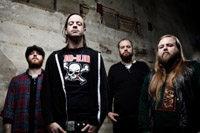 Guitarist/vocalist Rob Urbinati of Canadian thrash metal band SACRIFICE has issued the following update:
"Earlier this week, I got a call from none other than Eric Ratz, who engineered our 'Apocalypse Inside' album. He is presently recording the new album from Toronto band CANCER BATS, who invited me down to do a guest spot. Friday night we got together and put some vocals on the awesome track 'R.A.T.S'.
"To the guys in CANCER BATS, and Eric, good luck with the rest of the recording. See you soon."