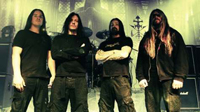 Swedish death metallers HYPOCRISY are putting the finishing touches on their new album, "End Of Disclosure", for a late March release via Nuclear Blast Records.
Commented HYPOCRISY leader Peter Tägtgren: "We're still in the studio working hard to finalize the album. Horgh just layed down the drums, and let me tell you, it sounds awesome!!! Thundering and brutal!
"We can't wait to put out the new tracks and play them live! Hope to meet you all soon on road and wish you guys a great X-mas and happy new year!"