Slovakian metal band Revealing The Conscience have signed a worldwide deal with Wormholedeath for the release of their debut album "Time Will Reveal". The record, produced by Jonathan Mazzeo, is a concentrate of brutal and melodic songs influenced by death metal, speed metal, power metal and black metal.
Band have prepared an teaser that can be streamed below: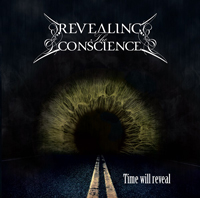 Tracklist:

01. Haunted (Intro)
02. Hellbender
03. The Damned
04. Waiting for Salvation
05. Struggling Within
06. Withered Roses
07. Passed through Wonderland
08. Farewell
09. The Breakdown
10. Mess Up
11. God and Satan
The whole band stated:"Revealing The Conscience is proud to announce the signing of a deal with a record label WormHoleDeath! Based on this deal, we have recorded our debut album "Time Will Reveal" in Montale, Italy at the MathLab Recording Studio and it was mastered at Finnvox by Mika Jussilla. We all have been working very hard from the last year's summer till now to prepare a high-class music compilation. Everyone of us is happy about the result and hopes that so will be all of you! "Time Will Reveal" consists of an intro and 10 regular songs, full of both power and emotion, hard riffs and melodic parts, robustness and atmosphere. Don't hesitate to get one just for you! We assure you that we have put a lot of ourselves into the music and there is absolutely no chance at all to be bored in any way!"
Worm stated: "Working with these guys is being a real pleasure since they know what they are doing and they never lose the focus on goals. Everything is flowing smoothly work-wise, not to mention the fact that they are very nice guys and honestly, it has been great to spend time with them. We have been working hard together and we reached a good result if I think of the album. In a few words these guys are serious and reliable, plus their music is strong so we have everything in place to go ahead fast and well here. By our side, we'll do everything possible to support their release and career."