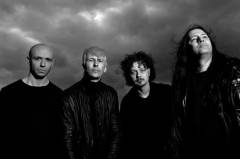 GOREFEST's video for the track "For the Masses" has been posted online at Nuclear Blast.de (Real Media). -

"For the Masses" comes off the reunited Dutch metallers' new album, "La Muerte", due in Europe on October 31 via Nuclear Blast Records. Audio samples from the CD are available at the "Media" section of the bands official page www.gorefest.nl

"La Muerte" was recorded at Excess studio in Rotterdam, Holland with engineer Hans Pieters. Mixing duties were handled in August by Tue Madsen (THE HAUNTED, ABORTED, DISBELIEF, BORN FROM PAIN) at Antfarm studio in Denmark.