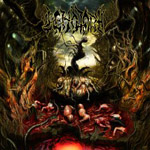 New York underground death metal specialist label Sevared Records has announced the signing of Ankara, Turkey-based brutal death metal band CENOTAPH for the release of the band's fifth CD "Putrescent Infectious Rabidity".

Comments the label: "Sevared Records is very proud to announce the signing of Turkey's most brutal death metal band, Cenotaph!! In early 2010 they will record their highy anticipated 5th full length album. Incredible Ultra Guttural Brutality at it's finest!! You are warned!!"

The cover artwork for "Putrescent Infectious Rabidity" has been done by Studio Sho and is by the label described as "Fucking sick!!!". The album will be out somewhere in Summer 2010.