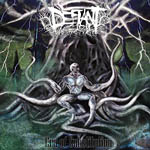 Grom Records - 2012 - Crotia

Recently I found another cd from the house of Grom Records in my Metal letterbox. This time it is about the Croatian band DEFIANT. They released in September 2012 their full-length cd "Era Of Substitution".
The guys play Melodic Death Metal of the harder kind. The all in all ten songs crush very ambitious and driven everything which obstructs them. Typical Death Metal riffs fit in powerful, energetic sound frameworks. Drifting forwards, always being to the fore, aggressive drum lines driving forwards and bring the necessary hardness in the songs. Supported by dark growls they enter a deadly symbiosis with the melodic parts. The neck muscles have here no rest from the first to the last note!! Pure headbanging is current!!! Musically is taken no prisoners. DEFIANT preserve consequently their path instead without any flourishes and making experiments. DEFIANT move in the upper mid tempo area and this is a good thing, too!!! "Era Of Substitution" became an extremely hearable cd which was recorded very dedicated and ambitious. Melodic Death Metal should sound like this in the year 2012!!! I can only recommend DEFIANT!!!