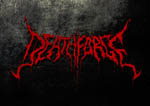 Eigenproduktion - 2012 - India

A few days ago I received a song from India. It is about the band DEATHFORGE and their song "From Soils Of Ziatous".

The actual song is the killer! Genuine Death Metal without flourishes and experiments which come straight to the point. Brutal riffs and catchy growls give the song the right spice. The listener is imagined himself into a world of machines and cyborgs by the very technical way of playing. And this also DEATHFORGE's intention. They want to create a musical world in which machines have transformed humans into cyborgs. Pure science fiction! "From Soils Of Ziatous" is a very innovative song on which is shed light to the end of the world and the downfall of humanity from a different perspective. A very fierce and straight going forward musical mixture which whets your appetite! I am curious what the guys will have in their sleeves in the future.