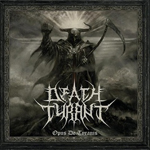 Non Serviam Records - 2013 - Sweden

DEATH TYRANT arose from the ashes of LORD BELIAL. With their opus "Opus De Tyranis" honour the Swedes the dark Metal nation in March 2013. The cd is distributed via Non Serviam Records.

Pitch-black Black Metal with Death Metal influences resound towards me. Dark, hard and of unending mourning repleted songs which reflect hate and coldness. Severe doubleblast drumming thunderstorm unites with black sound frameworks to an unholy musical alliance. Melodic riffs show the beauty of the production which is actually a contradiction in terms. But, DEATH TYRANT manage easily the fine line between thrash and technically ability. The symbiosis between beauty and brutality comes off here completely. Supported by distinctive growling the gents did everything right at "Opus De Tyranis". Thereby came out nine songs which take the listener into dark, icy worlds without hope for recovery or cure. They all move in the mid tempo area and are nevertheless diversified and energy-rich. Production-wise you can't nag here, too. Who is into bands like DISSECTION can grab here unshesitatingly.