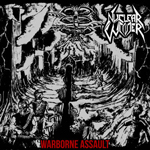 Wartorn Records - 2013 - Bangladesh

NUCLEAR WINTER are from Bangladesh. Earlier this year they put their EP "Warborne Assault" on the Metal market via Wartorn Records.

The gents play Old School Thrash Metal. Pure energy and emotions from the first to the last minute! The all in all five songs come across fresh and energetic. They straight take hold into the listeners' ear canals where they continue to have an effect for quite a long time. The gents roll like an avalance over the country and entrain everything that's not nailed down. NUCLEAR WINTER let liven up the good old days without thereby ending as a cover band or sounding dusty! The diversified riffs and the emphatic voice of vocalist Reza make this already sure. The guys move in the upper mid tempo area and doesn't take the food off the gas pedal while the entire running time. Very ambitious recorded I can only recommend "Warbone Assault"!!!